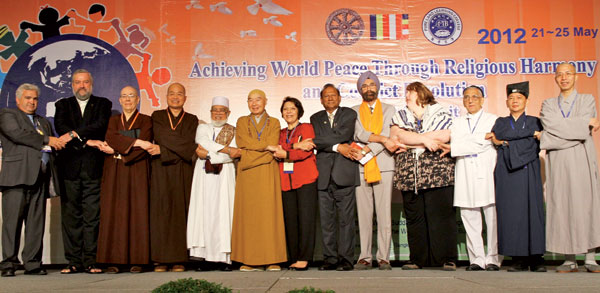 Leaders of different religions and cultures hold hands to pursue lasting world peace at the Interfaith Summit in Bangkok. Photos provided to China Daily
By Chitralekha Basu – China Daily's Report 28 May 2012
Highfields Herald Online, Monday, February 21, 2011

Toowoomba Region Mayor Peter Taylor accepted a cheque for $100,000 from Pure Land Learning College in Toowoomba at a dinner, he attended with his wife Rosemary. The Mayor said the college was most distressed by the flood events of January 10 in Too-woomba and wanted to assist.
"The Venerable Master Chin Kung presented me with the cheque."This is a very, very generous donation from a local community group that will be used to assist individuals or families who are struggling to recover from this exceptional event," Cr Taylor said.
Religious leaders from various beliefs and countries meet to discuss how spirituality can maximize profits and create happier societies in trying times. Chitralekha Basu reports in Bangkok.
The first time Greg Rudd visited Tangchi town in Anhui province's Lujiang county in 2007, he felt ambivalent, at best. Rudd says he went there with an open mind. He has a background in politics and business. Rudd runs a consultancy in Beijing, Hong Kong, Canberra, Australia, and London for companies seeking investment opportunities in the Asia-Pacific region in the areas of power, renewable energy, water and agriculture. And he served as a minister in the Australian government in the 1990s.
"I asked the businesspeople there: 'Why are you into this Buddhism stuff?'"
After all, sweeping, cleaning, picking up garbage from the road and attending lectures based on the Buddhist sutras aren't activities in which profit-driven business community members usually participate. But it's what they do in Tangchi.
That's when Rudd learned the residents of Tangchi were, in fact, suspicious, even resistant, at the outset.
Alice Wong, who was one among the first group of 37 teachers to launch the Tangchi experiment, recalls the initial reluctance.
Wong, who now is the director of the Malacca-based Chung Hua Cultural Education Center of Han Chinese Studies, remembers all too well how it took at least three months of painstaking and sustained effort to break the ice and get people to attend classes.
She and her colleagues won the confidence of Tangchi residents and access to their households only after they had endeared themselves to the families. It was a revolution that could not have happened overnight.
The Tangchi experiment, Rudd says, is proof that community building can effectively generate greater business gains.
Taking their cue from Buddhist teachers, the entrepreneurs started arriving at the workplace early in the morning – well before the workers – and beginning the day with prayer.
"Gradually, the workers started following the examples set by the leaders, and the workplaces became happier and more cheerful, leading to better productivity," Rudd says.
The Tangchi model, in which religious teachings from Buddhist texts are used to inculcate individuals' moral values, is the brainchild of the eminent Buddhist monk and teacher, "Venerable Master" Chin Kung.
In an event organized by the World Fellowship of Buddhists and the Queensland-based Pure Land Learning College Association, more than 400 religious leaders, representatives and observers from across the world, including 17 ambassadors to the UNESCO General Conference headquartered in Paris, met in Bangkok from May 21-25. They brainstormed about the effectiveness of using the educational component that forms the basis of all religious teachings to build communities of people with strong moral values in these cynical times.
Kung's idea of building "sacred cities of religions and culture" now exists in a kernel form in the picturesque city of Toowoomba, in Queensland, Australia. There, at least 80 ethnicities, who speak more than 100 languages, have set a new inclusiveness benchmark.
The interfaith community at Toowoomba celebrates aboriginal festivals, break bread together after fasting in the month of Ramadan, sing Hindu devotional bhajans and also address the needs of migrants and refugees. Kung's mission is to propagate the idea of this "model city of peace and harmony" across the world.
"At a time when the world is experiencing unprecedented chaos and turmoil, a peace village is the only hope we have," he says.
His associate, "Venerable Master" Ding Hong, who is also an academic with Pure Land and Sun-Yat Sen University, says: "Half the population the world over is religious, and the core values in all religious teachings are the same. We are trying to harness that emotion to encourage people to return to the teachings of the sages in order to bring greater stability to society."
The endeavor has the endorsement of United Nations representatives, who've spent decades engaged in evolving peace initiatives.
There's no underestimating the "tremendous power of spirituality that might be used to contain misunderstandings among cultures and the tremendous potential of faith in resolving conflicts", UNESCO General Conference president Katalyn Bogyay says, in the conference's keynote speech.
She also stressed the importance of involving women, who have the potential to "nurture reconciliation and contribute to sustainable development of their community".
Expectedly, the apparent paradox of using religious teachings to curb religious fundamentalism – the source of much of the intolerance and violence in today's world – has generated mixed reactions.
Kung is banking on religious teachings' corrective powers.
He points to a landmark event in 1993, when he got religious leaders from nine faiths, including Buddhism, Bahai faith, Islam, Sikhism, Christianity, Judaism and Zoroastrianism to speak from a common platform in Singapore.
But not everybody is convinced this might be a foolproof method to persuade terrorists to lay down their guns.
Rachel Kohn, who hosts a popular show on religion, The Spirit of Things, on the Australian Radio National, calls the idea "utopian".
However, she's curious to learn how Buddhism, which she felt received the most focus at the conclave, "might be made to engage in a real dialogue with other faiths".
And she wants to know how that might lead to practical solutions that would actually "improve the living conditions of people".
Australian Ariel Heber, who leads the Jewish segment of the Interfaith community in Brisbane, was more optimistic, even as he agreed the conference was somewhat "preaching to the converted".
He cited examples of how ideas might be turned into workable solutions by reaching out to greater numbers at a time when religion is often viewed with skepticism.
"People think you are trying to convert them, rather than talk to them," he says.
A colleague, he says, had suggested "putting food, fun and faith together", assuming people might be more receptive to religious ideas in a carnival setup.
Ultimately, the process of moral education has to start with belief. As Kung, an extremely soft-spoken yet utterly indefatigable 86-year-old, reiterated in his many lectures during the conference: "We can benefit from religious teachings only if we approach them with true sincerity and respect."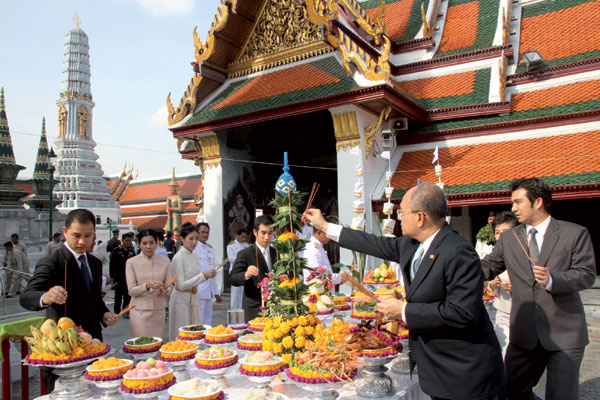 Leaders of different faiths pray for world peace in the Grand Palace in Bangkok.
Such unwavering faith was not in short supply at the conference. Malaysian businessman Elmar Tan says he experienced a dramatic turnaround in his life after he came in contact with Kung.
"I was a rascal before," Tan says.
"I was young, had money, looks – every potential to waste my life. But after I started listening to the master and reading his works, I realized if I did not turn around and mend my ways, I would be destroying my family. The master says Chinese culture can save the world from disaster as it is premised on the strength of family bonds."
Kung also offers the example of Emperor Wen of China's Zhou Dynasty in (1099-1050 BC), whose catholic beliefs and righteous rule attracted several thousand migrants to his 50-sq-km territory.
Judging by the Interfaith Summit's upbeat mood, Kung is likely not the only one who believes such magic could be recreated.