Pure Land helps fund hospital research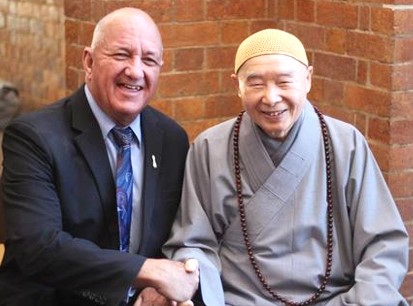 The Chronicle – 16th Oct 2014 
PURE Land Learning College continues its charitable work in the Toowoomba community with the donation of $120,000 to local education and research projects. The annual donation helps to fund research projects by staff of the Toowoomba Hospital, Baillie Henderson Hospital and Mt Lofty Nursing Home. This year there were four successful applications for the projects by both novice and experienced researchers, announced today at a presentation at the Empire Theatre Armitage Centre.
With the help of a translator, Venerable Master Chin Kung spoke of the College's associations and work in 120 countries and cities, including Toowoomba in which it has been a presence for 13 years.
"No matter where we go we always try to help the community we are a part of, it is nature for us to do charitable work," he said.
He said the college had ideas about the future, including the development of a multi-faith college.
"We will sit down and discuss these plans with members of the community. We hope to initiate teaching programs first and see the reactions of the community."
"We will always be in touch with Toowoomba's leaders. "
Our work is not just about Buddhism, it's about compassion and universal love. Our faith is about expressing that abstract teaching of love through action."
Toowoomba Hospital Foundation chief executive officer Peter Rookas said it was an honour to have Master Chin Kung attend the ceremony.
"Today was a great opportunity to acknowledge the generosity of the Pure Land Learning College during the past 13 years, in donating $1.56 million to Education and Research within the Health sector in our community," Mr Rookas said.
"During this time, many of the research project outcomes have been adopted by local hospitals, state and national to improve standard best practice.
"Without this support the Foundation would not be able to offer opportunities for Medical staff to further their education and develop new research projects."
He said the funds not allocated to the four projects would go towards other education processes in the hospital.
SCHOLARSHIP RECIPIENTS:
• Dr Nisal Gange and team received a grant of $26,855 for their project: A retrospective cohort study to examine the Clinical Efficiency and Effectiveness of the Toowoomba Hospital Geriatric Adult Rehabilitation and Stroke Service Model of Care."
• Ms Debra McKenzie and team received a grant of $17,000 for their project "The effectiveness of the Mums and Bubs Oral Health Program."
• Dr Martin Lowe and team received a grant of $15,732 for their project: "Analysis of the MAPT screening tool in triaging patients with hip and/or knee arthritis at a public hospital Orthopaedic Outpatient Clinic."
• Mr Richard Henshaw and team received $9,993 for their project "Establishing a drug monitoring system for regional Queensland."